Leo in Love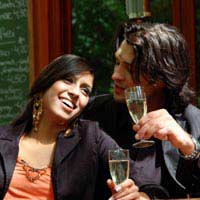 Leos (July 24th-Aug 23rd) can be demanding in love, but they do not see it that way as they feel they are only getting what is due to them. They can also be charming, magnetic and generous. You can never praise or compliment a Leo too much – doing just that is truly the key to their heart.
Leo Women
Leo women love praise. Whether deserved or not, you must build the foundation of your relationship on this basis. Leo women may have faults, but you cannot let them know that. The relationship can grow more practical as time goes on, but it must initially be built on your recognising just how fabulous she is!
Leo women will expect you to be a "one woman man" but do not expect the same of her. To her, men are like jewellery – having them as accessories just improve her image. She never has a problem attracting male admirers. In love, Leo women are very intense. They flourish in marriage as long as you can get used to treating her like a queen.
Leo Man
Quick to fall in love, Leo men often have a hard time sustaining the love. This is not to say a Leo man does not take love seriously – he does. He can make you feel as if you are the quintessential lovers. He showers you with admiration, but it can end as quickly as it began. Worse yet, he may never tell you why. But it could be because he builds such an idyllic image of love in his mind that when the real woman is revealed, he loses interest.
He may expect you to cater to all his needs, but does not consider himself demanding. He cannot understand how what he asks for and expects may be too much. Like the Leo woman, the Leo man thrives on praise and compliments.
The Perfect Date
The first date with a Leo has to be a knockout or the second one will never occur as they have high expectations. Leos love cultural events. Take them to a party that celebrates the opening of a new art gallery or a preview of a new movie and they will have a great time. Just remember that both male and female Leos expect the best, so make sure you go all out for the date – a top restaurant, the finest wine and the best seats. Do not be a miser if you expect to win their heart!
Compatible Signs
Leos are compatible with Aries. This well matched couple has a great sexual excitement, but both will have to keep a check on their egos to make the relationship work. Geminis are a great match for Leos as they are both social beings and love having fun. The best match for a Leo may be another Leo – the King and Queen will definitely turn heads. They may struggle at times for control, but they make grand lovers.
Incompatible Signs
Leos should avoid relationships with Taurus, Virgo, Scorpio and Capricorn.
Leos are independent souls who seek admiration. They draw people in with their charisma, but can discard them as easily if they lose interest. They like to be in charge in relationships, but once in love, give their hearts completely.
You might also like...
im an aries and i just started dating a leo man we were having our grownup time and i told him i love him he said i love you too should i believe him
nicole
- 30-Mar-21 @ 12:40 AM
I'm sagittarius and have been with my husband 5 years, but loved him Since I was 5 years old he's a leo.We love so strong-though we think different I know we have a bright future-good times an bad.
Lilbit
- 16-Oct-19 @ 3:23 AM
I am a Leo woman with taurus and love him to death.. at times yes he doesn't show defection, love and admiration enough, but I feel like we can get along. leo's Give love unconditionally, but tauruses are unable to give their love away just everyday. It's so frustrating, but I can't imagine my life without him, even though I k ow our end will come soon.
Yuni
- 1-Jun-19 @ 9:29 AM
I am a virgo woman, so in love with a leo man. He is my partner and he is understanding. So loving, caring. We Make a great team. He loves responsibility and I dont. Hes amazing hes a king. Follow your heart. Me and him are almost similar but we give each other what we want to receive.
Pops
- 20-May-19 @ 7:42 PM
Leo woman here been with my Scorpio man for almost 14 yrs!! Not married and probably never will be....still love him very much but am no longer in love, which is disappointing?? but honestly we been thru so much already I have no desire to start over with someone new! Would much rather simply be single!!??
Queen B
- 6-May-19 @ 8:13 AM
Aries lady here. I've been with my Leo man for over 6 years now. && I wouldn't change it for anything. We're the perfect mesh. Lets just say though, even if we "burn out" for a couple days we always find each other again. The perfect fire pit ((:
Arian
- 17-Oct-17 @ 3:11 AM
I am a scorpio women married to a leo. This fits him to a T. We get along very well, surprising they say we are not compatable.
Mamacraft
- 17-Feb-17 @ 3:14 AM
i cant forget my leo. me myself a cancer girl
aish
- 3-Jul-14 @ 11:54 AM
Am a single man..when i talk to one that about and i say real i see she is not willing
bokandeh
- 24-Nov-12 @ 11:19 AM
I'm a Scorpio woman. My Aries man left me for a Leo woman. Your astrology tells me why:-)
poppy
- 16-Nov-12 @ 2:41 PM
true...bt m in a relation with scorpio...& i vant to know that this relationship could go on to succed or would end up in future...plz ans fast!!!
monii
- 3-Nov-11 @ 11:29 AM