Personality Traits of a Sagittarius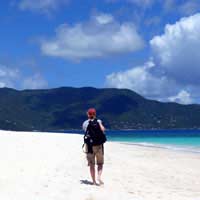 Sagittarius (Nov 23rd-Dec 21st) is the ninth sign of the zodiac and its sign is the archer. Sagittarians are lucky by nature, so they usually display a cheerful and optimistic disposition. Their inherent curiosity keeps them more interested in what will happen tomorrow rather than focuses on the mistakes of today. A state of constant change is a delight for them. Sagittarians are extremely independent, truly free spirits and yet, they are the nicest of all the zodiac signs. Sagittarians are kind, openhearted souls who do not expect anything in return when helping a friend. There are no hidden secrets to a Sagittarius - what you see is what you get. Creative, clever, straightforward, congenial - all these traits describe Sagittarius.
Curious
Sagittarians are usually up for any adventure and love travelling to exotic destinations. That is because they are so curious about the world around them. Like Gemini's, they want to know about everything, but whereas a Gemini might learn a little about something and drop it, the Sagittarius can remain interested until the end. A Sagittarius's restlessness and disdain for the mundane however, may be damaging to relationships.
In addition to being curious, Sagittarians are also the great philosophers of the zodiac. Broad-minded and inquisitive, part of Sagittarius's inquisitiveness includes pondering the great questions of all time such as the meaning of life and religious issues. Their clear thinking means they have no problem seeing the "big picture."
A Great Friend
Sagittarians are very social people. They give off a charm that draws people to them. The friendliest of all signs, Sagittarians are kind to all and always doing favours for which they expect nothing in return. They are not jealous or possessive because they would not want anyone else to be jealous or possessive of them. They also do not tell you how to live your life or what you should do - they do not stick their nose in your business, only help when it is needed.
Sagittarians make great entertainers because of their creativeness and outgoing personalities. They have a great sense of humour and, like their opposite sign, Gemini, are great conversationalists and magnificent storytellers.
Weaknesses
Sagittarians can often be seen as too talkative and pushy because of their extrovert ways. Sometimes their frankness is seen as being too blunt or impatient. Because of their desire for change, Sagittarians may have a hard time committing to a relationship for very long. A Sagittarian's carefree nature may also lead them to be careless.
Parts of the Body Ruled By Sagittarius
The liver, hips, and thighs - Sagittarians have a sensitive liver and may be susceptible to alcohol abuse and hepatitis. However, their love of the outdoors helps them keep healthy.
Famous Sagittarius
Actors/ Entertainers
Walt Disney
Frank Sinatra
Jane Fonda
Woody Allen
Bruce Lee
Steven Spielberg
Sammy Davis, Jr.
Samuel L. Jackson
Musicians/ Singers
Jimi Hendrix
Ludwig van Beethoven
Christina Aguilera
Britney Spears
Tina Turner
Jim Morrison
Writers
Louisa M. Alcott
Mark Twain
Emily Dickenson
John Milton
Leaders/ Politicians
Josef Stalin
Pope John XXIII
John F. Kennedy Jr.
Francisco Franco
Strom Thurmond
Ed Koch
Andrew Johnson
Athletes
Joe DiMaggio
Katarina Witt
Ty Cobb
The friendliest of all signs, a Sagittarius can be your best friend, but their roaming nature may not make them a good lover. They are however, fun loving, charming, and honest. Their creative minds will amaze you and keep you thoroughly entertained.
More About Sagittarius
Now you know all about a Sagittarian's personality why not find out what they're like when it comes to love by reading our article
Sagittarius in Love
.
You might also like...
Born 11/24 new here and wants me meet my fellow sagittarise
Where the hell is jayz ? The game ? Nicki Minaj ? Stone cold Steve Austin ? Just to name a few commonly known Sagittarius"s who are famous
Marcopolo
- 21-Apr-20 @ 7:21 AM
Where the hell are Taylor Swift and Nicki Minaj on the list??! I mean.. Like srsly they are the most famous sags
Bruh
- 18-Feb-20 @ 5:28 PM
I am a Sagittarius and I am not changing to a Scorpio..i definitely love to travel and have big future dreams. People also mistake my honesty as sarcasm. Though I am not changing my sign, honestly I do have a lot of Scorpio characteristics as well. My birthday is 11/24..
Peah
- 11-Jan-20 @ 11:14 PM
AJ I'd have to say I agree with you there. They got a few things right about me but they missed the mark on a bunch. I love to travel and be outdoors,and I wear my heart on my sleeve, I always say what's on my mind. Dont ask me something if you arent prepared for the raw truth that's about to come out my mouth. That about all they got right on me. Now what they got wrong I am a loner, I'm not bad with relationships or staying in one place. I've had three serious (adult) relationships in my lifetime the shortest one was almost 5 years and the longest was two months short of being fifteen years, and now I'm very proud to say that I've been with the same person for almost 8 years. I'm not at all social, I dont even like social media lol, and I absolutely hate being the center of attention. I'm not a careless fly by the seat of my pants kind of person either. I'm extremely OCD when it comes to making decisions about SOME things and they have to be thought out and carefully planned. I own and operate my own business and very successfully I might add, i dont have the option to be careless. My favorite one out of them all, I DO NOT ABUSE ALCOHOL. I dont even drink lol. Now I feel better. Long story short, AJ I agree with you they missed there mark, or maybe we arent Sagittarius afterall? Maybe we should just wonder off into the great forest and find out. We will bring back amazing stories to tell. Everyone can sit at our feet while we tell our stories, well that is if they can keep us still long enough. Haha
Mindy
- 9-Jan-20 @ 2:50 PM
You forgot Jon Chardiet born Dec 21,1960. Played Ramo on beat street. He a Sagittarius.
Baby
- 20-Dec-19 @ 11:48 AM
Richard Hammond is also a famous Sagittarius, ex top gear presenter ????.
Kimberley Holley
- 27-Nov-19 @ 6:39 PM
All was true for me other than the whole "loves change" thing, I hate things changing of plans suddenly canceled, I don't know why I've just really been into my zodiac sign (Saggitarius) for the last couple of weeks!
I just want to say I think that your article describes me very well I love outdoors and I have always been told I'm talkative in other words this article is very truthful and I think you did a great job.
Bella
- 30-Jul-19 @ 4:13 PM
Just wanted to let you know that Ozzy was born on my birthday ... Dec 3rd
Lyndi
- 4-Jul-19 @ 1:48 AM
I'm a saggitarise as well that means I have all of that in me and more plus this info was very useful
Hannah Montana
- 19-May-19 @ 4:01 PM
Everything was basically right except the me being careless part. I am not careless AT ALL....
Gemini_lover
- 7-May-19 @ 7:37 PM
All said about Sagittarius star sign is true with me. Woww!! I love this
Fogo
- 5-May-19 @ 8:25 PM
I love a cancerian and I am also cancerian, is it a strong match?
Anny
- 17-Apr-19 @ 7:27 AM
I agree to disagree with some of the personality traits. I am not an extrovert more introverted and a loner at time. Definitely love to travel and can't sit in one place for too long.
Well I'm a sagittarius so on the scorpio sagittarius cusp so I'm mainly Sagittarius but have Scorpio influences so yes I'm talkive and social but sometimes can be also quiet and reversed and yes independent free spirited is correct and dam do I love adventure never met another Sagittarius they doesn't like adventure lol we are born to explore travel and live life to the fullest my brother two cousins and nephew are also sagittarius my baby nephew is like a wiggle worm he does not stay still or like to be in his car seat for long he also does funny stuff when hes mums gone makes funny sounds and fake coughs so we look at him lol he is the cutest tho so love him! one thing also i love having fun live for fun also the meaning of life intrigues me and philosophy
Louise
- 6-Sep-18 @ 3:11 AM
Well, I think loads of these traits suit me down to the ground. However I can never speak my mind because I'm always trying to keep everyone happy! So it's not all perfect , other than that ....spot on! All sag's are quite similar in some respects .
Kaylz
- 15-Apr-18 @ 2:26 AM
Some of it ain't true. I'm not a talkative guy, actually I'm the quiet, shy type. I'm also not impatient and frank. I do love the outdoors though.
Drew
- 5-Jan-18 @ 4:33 PM
That's true, I never like to stay in one place, I constantly wanna get out of the house.
Gerb
- 30-Dec-17 @ 2:46 PM
Also to added to your list of musicians that is Sagittarius, Jay-Z December 4th.
sexy
- 29-Nov-17 @ 6:50 AM
I agree with the description. I feel that one can rise up from the hard times and become a better person. Always try to improve yourself emotionally, physically and spiritually so that you can live your life to the full :-)
Angie
- 3-Oct-17 @ 5:01 PM
The only thing I'm not is talkative. Actually the exact opposite. At the same time I'm not shy though. I wonder why that is.
Deme
- 25-Jul-17 @ 2:30 AM
I share many of these traits and I like to think that i do my best with them. I hope that they're as universal as I'd like them to be.Cheers.
Popeye
- 22-Jul-17 @ 1:34 PM
i am sagi i know we can be two things either we become leader and lead. or become nothings bcoz following people or any person is not in our blood. either we will be king or we leave independent life.
dragon
- 19-Jul-17 @ 10:17 AM
why some people being sagi act different from other sagi? i am sagi by sun sign and asscendant. but i act more like cap and virgo . my moon sign is libra.
jai
- 19-Jul-17 @ 10:11 AM
Sorry to say..not all people of this sign good to get along..infect I have a family member,i'm not gonna say who it is,but damn it...it's so hard to live with that person..not only that person is arrogant and thinks that no one is better than that said person but also so childish that he/she fights for merely trivial things .. seriously,and so theatrical and dramatic and often wants get praise.severly alcoholic and lying is a hobby.The whole family members are getting sick of it which includes me...well you can get the picture.*(plz understand I'm only describing our particular family member,these does not include others,I request to othe people of this sign plz don't get offended,its just that I'm really really sick of this particular persons attitude towards others.)
Ananya
- 4-Jul-17 @ 6:39 PM
I really felt happy reading about my zodiac sign. And that's really me! Each and every word about this article is just about me!
Rooina Ronson
- 25-Jun-17 @ 8:44 AM
i'm a Sagittarius and im an introvert it's funny how much this sign doesn't fit me at all then again my rising sun and moon are virgo
mitch
- 13-Jun-17 @ 2:12 AM
Just curious as to which how accurate our horoscopes actually are As opposed to the affects of placebo and involuntary emulation after exposure to pre conceived ideology or traits of said specific zodiac
Theo
- 4-May-17 @ 8:43 PM
As much as iI hate to admit it this imformarion is right on pount. I started out justl ike a sag from what I hear as a baby got a little shy as a teen until I had a few drinks .But by the time I hit college up until now people already no. oh and i am cosedered a leader by most.
Lon
- 17-Apr-17 @ 10:22 AM