Sagittarius in Love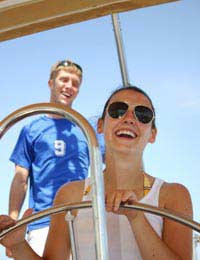 Sagittarians (Nov 23rd-Dec 21st) are often viewed as being footloose and fancy free. They greatly enjoy their freedom, and flit from lover to lover without much care of the damage they leave behind. They simply love the chase. Exciting, adventurous, and vibrant, they will be hard to resist. A romance with a Sagittarian may not last long, but it will be a wild ride while it lasts.
Sagittarius Women
A Sagittarius woman is a bundle of excitement and passion when in love. She positively glows and radiates happiness. Love to her is not just about passion, but also someone who will stimulate her mentally. When she is unhappy, she will simply leave the relationship rather than compromise or work on it. And she is not aware that her actions may have consequences. She is usually surprised if ex-lovers are hurt by her departure.
Love is not everything to a Sagittarius woman but merely something that is a great addition to her life. She is always moving forward whether she is in love or not. Adventurous and witty, she enjoys life and tries her hardest to make sure everyone else does as well. She enjoys the company of men and can be very flirtatious. But once she finds "the one", she is very loyal.
Sagittarius Men
Sagittarius men are often regarded as the Don Juan of the zodiac. He loves to love them and leave them because he simply loves the chase. But the symbol for Sagittarius is the archer, so he is a natural hunter.
He may tell you he loves you and really mean it, but he can also be in love with three or four others at the same time. He may not be interested in a long-term romance or marriage. He finds all the happiness he needs in travelling from one love affair to the next.
The Perfect Date
Sagittarians love anything to do with the outdoors, so far a date, consider a picnic, a day at the beach, snow skiing, sailing, or an outdoor concert. They are informal people, so they will enjoy a local café much more than a fancy, formal restaurant.
Do not worry about dinner conversations - Sagittarians are interested in almost anything and they love to talk. Ask them what they think about the current news, sports, or their job, and you will be a hit. Just do not be too intrusive with your questions. Keep things general.
Compatible Signs
Sagittarius and
Aries
is a good match because they both have a love for the outdoors and enjoy socialising. Sagittarius and
Leo
both love to travel and enjoy their freedom, so they should get along well. Enthusiastic about life, Sagittarius and
Aquarius
may be slow to commit to emotional intimacy but over time, it can come.
Incompatible Signs
Sagittarius should avoid relationships with Taurus, Virgo, Scorpio, and Capricorn.
Sagittarians will be the life of the party, but are not usually into romances for the long run. They love to socialise and chasing the opposite sex is just part of the game. They love outdoor activities and have an independent spirit.
You might also like...
Im a Sag who have dated a cancer..Too Clingyyy..Scorpio.Emotional creature.cheats.but wants you stay commited.Not..Leo.Crazyyyy.Possessive.Sag do not like to be told what to do.Taurus.they soo stubborn its annoying.Sag hates that.Now I been dating a Libra.Omg Im soooo feeling him.Like him.yess he can be my future.If he pops the question.YES I DO
G$$$$
- 19-Jul-19 @ 4:19 AM
I'm a sagittarius and last year I dated a sagittarius (November - December) our relationship never lasted long because he cheated on me with 2 or 3 girls. His birthday is exactly 2 days before mine and one birthday he broke up with me saying he wa dating my friend and yeah i was heartbroken but i moved on. Now I have this beautiful , wonderful boyfriend ever. I forgot about my ex , yes we still kinda friends cos his my best friends brother and we go to the same high school but I moved on and if i had to be sad all the time i wouldn't have found my wonderful boyfriend i have right now. He makes me the happiest girl ever and i look forward to spending my life with him. :-)?
cupcake ?
- 6-Jul-19 @ 1:45 PM
Sag man just out of 6 year relationship with virgo, do yourself a favor and stay away
I'm a Sagittarius, married to a Sagittarius with son who is a Sagittarius! ???? Our relationship is definitely a "relationship goals"
?? fox
- 18-May-19 @ 6:52 AM
I'm a sag and I'm in love with a Capricorn woman and we've been doing each other for about 6yrs off and on and everything I read about us not being for each other I try to dismiss I adore the chase but now we are friends again with benefits because she has a friend that's a little more than that to her but nonetheless she give me her heart and I want to throw in my towel and just chase her but she says be patient and im trying my best should I continue to be the guy on the side or stay and maybe I will get my heart broken
Rondu
- 9-May-19 @ 1:10 AM
I'm a Sagittarian woman. I was with a Scorp guy recently and he was so emotionally invested in our relationship, I was scared to death. Plus he wouldn't understand that I don't like to get deep into just passion and emotion. And I ended up breaking up after 2years, and honestly I was literally surprised to know he was having a hard time accepting it. It's been almost a year since we broke up and he still isn't over it. *sigh* I just wanna have my peace of mind. ??
Skylark
- 18-Jun-18 @ 5:37 AM
I'm a Sag and I'm in love with an Aquarius guy, we've been together for 9 months and this is very accurate! I didn't want to open up at first, I didn't want to scare him off. A few days ago, he told me he loved me and I am so insanely happy.
Meg
- 21-Jan-18 @ 8:50 PM
I'm Sagittarius and I'm in a relationship with a Libra, some people say we are not compatible.. we've been together for 8 months now and we have fights here and there but nothing to big.. Sometimes it feels like everything is right but there are some days that i feel completely alone even if I'm laying next to him. What should i do ? Please help :(
TasStone
- 11-Sep-17 @ 11:27 PM
I am a sag whose in love with an cancer, we don't have problems but noticed he is very possessive of me. Is it likely his the one for me? I usually hear sags and cancer never stay together. Is that true
Nina738
- 8-Mar-17 @ 4:19 PM
Hey! I'm a Sagittarius. Um...I've been in a relationship with this really sweet Virgo guy to ten months, and I met another guy last week who's talking about me staying with him and all this other stuff but I'm in love with the Virgo and not him. I'm just wondering if I should stay with the Virgo or not because we've been together ten months and that's the longest relationship I've ever had..help?
Bree
- 2-Mar-17 @ 4:12 AM
I'm also a Sag and one thing I've noticed is that I'm favoured by scorpios mostly, intimately so. My boyfriend is also a scorpio we've bern dating for 6 years now, with no break ups in between. We are a good match but our differences sometimes tend to get in each other's throats. I can testify that scorpios are true avengers. I can spot a scorpio a mule away and somehow I seem to attract them. My signature signs are scorpios and geminis.
sag
- 20-Feb-17 @ 11:50 PM
Everything I read about Sagittarius fits me pretty accurately. However, I am in love with a Scorpio. His is also scary accurate. But I don't agree the a Scorpio is a bad match. We've been together on and off for 8 years, but had feelings for each other 12 years ago. There was an instant connection the day we met... Maybe ours doesn't fit the mold because we were best friends first. Either way, other than the disagreement about the matches, this site is informative and if the knowledge is used, right, we can all benefit from knowing the traits of our sign. Good and bad. And make ourselves better.
Voces
- 16-Oct-16 @ 6:30 PM
Most of this true, I have more exciting times when I have 4-5 women, when the chase is over.... I'm bored. Lol. I move on... I am a tornado in the love community
Thedonjuan
- 2-Oct-16 @ 6:47 PM
yes im a sag.and it so true that very loyal to the partner n sociable. im married 2x and both are womanizer despite of all sacrifices and give everything being a wife and a mother..i always wanted to get out and find my fate, love n happiness again but i had this resentment for now im sacrificing it for sake of my kids hus growing healthy n not mixing it to a different invironment. as i read the article i do beleived i had fallen to a wrong guy hu is not actually my match..
joh
- 17-Jun-16 @ 4:20 AM
I am a sagg women married a Virgo man.we have lots of fights and arguments .i don't know if we could continue. I did this marriage for my parents sake but I don't like it..I always wish time to change .
Fizz's
- 27-Apr-16 @ 10:21 AM
I am sag person so I need a gf which I neva found :D so plz help me :P need a gf
bunny
- 24-Feb-16 @ 1:03 PM
I'm a full sag and not a cusp. Some of it is true and untrue. I love challenge and chasing but when it comes to loyalty, I'm very picky with it. I feel I should only be loyal to the right people I hold dear. Although I read up on some scorpio traits and I fit them when it comes to being intensely passionate, vengeful and at times really secretive/hard to read.
Alq
- 30-Aug-15 @ 8:34 PM
I love this page i recommend it ho who ever is interested
kiesha69
- 30-Jun-15 @ 12:23 AM
All of this is so helpful because I myself am not in a relationship but I also know who I would be compatible with so thank you so much
allycat
- 20-Jun-15 @ 4:54 PM
True, trying to work things out is such a waste of breath. Seduction is like a sport. You know you're good at it, so you keep playing.
Chestnut
- 14-May-15 @ 6:47 AM
I'm a sagitarius man this is true I love freedom and everything. I wonder where all the beautiful aries, leo and Aquarius women are. :)
I am a sag lady recently had a scorpio guy in relationship. I found him having an "interaction" with some girl on facebook and when i asked about it he did not reply he just gone and never heard from him in almost 3 months. Does this mean breakup?
ally
- 7-Feb-15 @ 10:18 AM
I am a Leo woman who was with a Virgo man and we were together off & on for 16 yrs. We have 3 boys and we never could see eye to eye on soooooo many things so I do agree on the reasons we aren't necessarily compatible ??
meme
- 5-Jan-15 @ 3:42 AM
@Mac. That's lovely, we hope you continue to be happy together.
ExploreAstrology
- 21-Jul-14 @ 11:21 AM
I been in love with a Virgo for over 10 years. no one has ever made me happier. I have no plans to ever disrespect her. She is all I will ever need.
mac
- 18-Jul-14 @ 4:14 PM
this thing is half way right.. some of it do explains me alot and some of it is the opposite of me..
keke
- 15-May-12 @ 6:57 PM