Aries in Love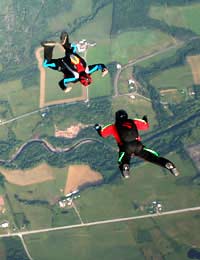 Aries men and women (Mar 21st-April 20th) exude charm. They often look at love as a game and the opposite sex as an opponent to be conquered. Love may be a game to many Aries, but be warned, they are hard to resist. If they do find the perfect relationship, they thrive, becoming more loving, understanding and sensuous.
Aries Women
Aries women are robust and independent. When it comes to a relationship, she likes to be in charge. At the very least, she expects to be seen as an equal. If you accept her domineering ways, expect her to try to change you. She will attempt to mold you into the man of her dreams. An Aries woman can be forceful and is determined to get her way.
In love, an Aries woman can be very faithful. However, she can also be jealous and possessive. This jealousy is not the result of insecurity on her part, but her need to be #1 in your life. If you are faithful to her, she will be loyal but, if you stray, you can expect the same from her. What she really desires is a long-term relationship. Loving and passionate, she enjoys sharing her life with another. An Aries woman is one you do not want to neglect or ignore. When she feels loved, she is understanding and supportive. When she feels abandoned, she can be shrill and demanding.
Aries Men
An Aries man is often hard to resist. He seems to generate excitement wherever he goes. He is adventurous and virile but he can be fickle. He is forceful and direct - you will know immediately what he wants from you. He loves the chase of the relationship. He likes to capture a heart then move on to the next woman. He also loves to sweep a woman off her feet. He is sensuous and loves to act out his sexual fantasies.
A relationship may not last long, but while it does, you will have a man filled with energy, adventure, exuberance and passion.
The Perfect Date
Aries love anything adventurous, so taking them white water rafting, skydiving, or bungee jumping would be right up their alley. However, they also consider themselves intellectuals, so if you want to start out a bit slower, take them to the theatre, a concert, an art museum, or even a political rally.
Aries are also big sports fans, so you can never go wrong with any type of sporting event. Be prepared though - Aries have lots of energy and you may be in for a marathon date if things go well.
Compatible Signs
Aries are compatible with Geminis as both love to talk and neither sign is inhibited. Aries and Leo are also a good combination as both are romantics. Aries like to dominate and Pisces like to be cared for, so this combination may make for a good relationship. Aries is probably best paired with Sagittarius as they have the perfect temperament for each other.
Incompatible Signs
An Aries should avoid relationships with Cancers, Virgos, Scorpios and Libras.
Aries men and women can be very electrifying, charming and tempting. If you want more than a quick romance though, you need to keep the excitement in the relationship and continue playing the game, even after you fall in love. Whatever you do, do not try to dominate them - they will run in the opposite direction!
You might also like...
I'm abit late to this post but I'm a Sagittarius and my boyfriend is an Aries and I've found him to be very much my way or no way at all, we have split up a few times over it but when things are good they are amazing. We always laugh and have fun buthis need for control just tends to spoil things, as an easy going, free spirited Sag this is the main thing that puts the dampers on our relationship
Gingerjenji
- 20-Jun-20 @ 8:57 AM
In love with a virgo I am aries we not talking nowand he ttests me cold but he treats me goodI feel he loves me but everytime we start showing feelings he will stay away for days then come back with more passion ate lovewhat should I do I cant get him out of my mind
Von
- 1-Jan-20 @ 11:14 AM
I'm an Aries woman... Dated a Gemini man (suppose to be compatible) we did had lots of fun together, both very outgoing, many adventures together but he definitely had a wondering eye which didn't sit well with me, cheated on me at the very very beginning of our relationship, though he came clean about it, he was extremely honest about everything (which I liked) but it was always about woman he wanted to be with/sleep with/liked the way they looked....always about other woman....I eventually ended things Now I'm dating a Taurus man, which according to astrologist "we're not compatible".....But...He is literally everything I've ever wanted in a man. The passion, adventures, he's focus on us, understands my "freedom/independence", cooks, helps with the house.... we vibe on a totally different level!!! I feel like I can be myself, I have peace, love, I am comfortable with out being insecure. This is beyond what I've ever wanted in a relationship. So I wouldn't be too caught up in the "compatible signs" just the way a person truly vibes with one another ??
Cesshy
- 10-Aug-19 @ 8:49 PM
I'm in love with a Virgo man. I am an Aries Women and I feel like he doesn't love me, He NEVER kisses me, holds my hand, hug me without me hugging him first and Never talks to me. He tells his friends that , "He's scared he is going to say something stupid, and i'm going to break up with." And every time I try to tell him that I will never do that but he would give me this 'I don't care what your saying' look so i'll say, "Never mind," but I can see hurt in his eyes and it breaks me every time and I don't know how to talk to him without getting scared. I'VE NEVER EVER FELT THIS WAY TOWARDS ANYONE AT ALL!!! HELP ME.
Sades
- 7-Apr-19 @ 3:51 AM
Madly in love with my Aries man...Oddly enough, I am also an Aries. We are 8 years and 1 day apart. I am wondering....just how much alike is to much and how difficult is this ride going to be..? ARIES & ARIES
KristEna
- 4-Jan-19 @ 2:15 PM
Madly in love with my Aries man...Oddly enough, I am also an Aries. We are 8 years and 1 day apart. I am wondering....just how much alike is to much and how difficult is this ride going to be..? ARIES & ARIES
KristEna
- 4-Jan-19 @ 2:13 PM
I'm so in love with my Aries man , by the way , I'm a water barrier ( aquaria My Aries man , he's so dominate, caring , loving , supportive Really I love this guy
Daisy
- 24-Nov-18 @ 9:51 PM
I'm in love with a Virgo man and we've been together since June 30th, 2018. If you don't count the many break ups... I did that a lot. By the way I'm an Aries. We do get a long pretty well for the most part but it's like an on-and-off relationship that I'm slowly getting sick and tired of it. So I'm finally going to stop breaking up with him and, finally get serious because I really love him and I literally cannot live without him. I mean he's a man who can cook, he's not abusive, he's every woman's dream. I love him and he loves me. I just wanna define all odds and say that the horoscopes are false and what not.
Dimond
- 4-Oct-18 @ 11:59 PM
I'm an aries woman. I've been with a leo man for over 6 years now. When it's good it's Amazing. But when it's bad it's BAD.. Both super fiery personalities, & equally as crazy, passion and tempers. Wouldn't trade it for anything ????
Arian
- 17-Oct-17 @ 3:05 AM
Aries woman here , involved with Scorpio man. Lots of arguments and heartache. Scorpio is very sensitive and always feels the need to.be right, never ever wrong, infuriating. Feel totally lost with this sign. True saying that "water puts out fire...not a compatable match just give up :(
Firey
- 15-May-17 @ 12:40 AM
Hi I'm an Aries woman and I'm dating the total opposite of what I should be. My boyfriend is a cancer, and we have definitely had a lot of arguments the first couple of months we were dating, but we've been working it out quit well now. We're understanding more of our differences and having patience with one another. But it sure does take a LOT of patience it wasn't easy/ isn't easy but when you really do love someone you make anything possible:)
Aries babe
- 29-May-16 @ 7:53 AM
I am a Aries independent woman and dominate jealous and I have trouble with being attracted to the bad boy type why can't I see a person like me smart, funny got everything together as an option?
hotel
- 16-Mar-16 @ 8:35 AM
I'm so in love with my Capricorn Man and I feel like I show him more love and affection than he shows me! I'm an aries by the way I'm more forceful and he's more chill. sometimes i feel like he doesn't' love me as much as i love him even though he says he does it's really hard for me to tell. he doesn't even like all that lovey dovey kiss kiss stuff in public only in the bedroom and i really don't understand what his problem is...
Keke
- 6-Jan-16 @ 10:49 PM
When a Gemini is in love with hisbest friend,but hisbest friend doesn't know it,how does a Gemini act.
Sagittarius here. Let's hope temperaments are enough. I have the feeling an Aries man will be a handful ;)
HappyHunting
- 23-May-15 @ 3:17 PM