Aquarius in Love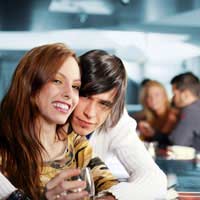 Aquarians (Jan 21st-Feb19th) are very social people and never have a problem making friends. But love can be another matter. They fall in love, but Aquarians are independent creatures, so staying in love may take a little work. They love their freedom and it is not easily taken from them. They are great humanitarians and very intellectual, but they are often uncomfortable when dealing with their own emotions. Aquarius is the sign of truth. If you ask them a question such as "Do you love me?" you should be prepared for an honest answer.
Aquarius Women
You will find Aquarian women to be warm, outgoing, and friendly. Her charming ways means she has no problem attracting men. However, she is wary of her own feelings, preferring to deal with things with reason rather than emotion. She is rarely content with where she is at now in life, rather she is usually thinking about where she is going and how to get there.
Liberated and independent, an Aquarian woman does not really care what the rest of the world thinks about her. Lovers will notice her liberated attitude in the bedroom as well. But do not make the mistake of treating her like a sex object - that is a definite turn off! She expects to be courted by a man. But even if he proves himself worthy, it may be difficult for her to find time for him in her life. She is usually busy with other interests, projects, and hobbies. She may seem a bit distant emotionally, but when she decides to commit, she is very faithful.
Aquarius Men
An Aquarius man is a thinker, so if you hope to catch him, you will have to stimulate him intellectually at first. Like an Aquarian woman, he also has a hard time dealing with his emotions. He may fall in love quickly, but maintaining that love may take so time and work. It takes time for him to make room for you in his life and adjust to being less independent.
Rather than string along many women, an Aquarian man is usually true to one woman. In a love affair, an Aquarian man is kind and broadminded. Because he expects his freedom to be respected, he also respects yours. In the bedroom, an Aquarian man is adventurous, experimental, and exciting. However, that does not mean love will last forever. But he does not worry; another love will come along soon. It is for this reason that Aquarian men are often the most married of all zodiac signs.
The Perfect Date
Because Aquarians are social, you should not have a hard time coming up with great date ideas. Any type of party or gathering will put them in their element. Aquarians also enjoy any type of intellectual gathering such as a poetry reading or art gallery opening.
Compatible Signs
The combination of Aquarius and Gemini will work well because both love being with people and communicating with others. Another good match is Libra as they both enjoy music and the arts. Both can have many projects going at the same time and neither is bothered by that. Sagittarius may be the best match for Aquarius though. They are into each other intellectually, but also great lovers in the bedroom.
Incompatible Signs
An Aquarian should avoid relationships with Taurus, Leo, Scorpio, and Pisces.Aquarians are wonderfully interesting and caring people, but it may take some time to see their true colours. When committed to a relationship, they are loyal, but must always be able to see a way out if needed.
You might also like...
I have been seeing Aquarius man for 5 month now I am a Sagittarius woman we get along and are compatible how ever he loves another woman previouse relationship that is up and down he calls and txt me every day he has told me he loves me a few times and ses he wants me He also ses I am his future wife have attempted to cut contact with him a few times as I do not want to come between this woman and him but he he some how is persuasive and I forget about it and love him again how ever some days he leaves me quite confused he is very open with me emotionally I just want to no if I am wasting my time and should I move on
Dani86
- 27-Aug-18 @ 6:01 AM
The Aquarius dates are actually from January 20 to February 19......
Bibble
- 2-Dec-17 @ 5:46 PM
I am married already. However have a true bonding relationship(commited) with another female who is Sagittarius. It's been more than a year now. Will that work life long for me. What should i do to make it lifelong. Due to pressure at her home she is forced to get married with another person. But they not marrird yet. Kindly suggest
I am an Aquarius female, with an Aries male. We were best friends for 3 years before getting together and now 3 years into the relationship could say I have never been so happy. I think in terms of settling down, we are good for each other in ways which he helps me stay grounded. As though I hate routines, and avoid it, it ends up putting me in a worst state. He stresses and works hard, I encourage and motivate his strive for adventure. We are amazing for each other in many ways.
conskirv
- 28-Sep-17 @ 3:56 AM
I need to know if I will be able to be with the one am thinking right now in my mind and will we stay forever also will us stay together?
Bby J
- 28-Apr-17 @ 6:58 AM
I like a guy and I'm pretty sure he likes me too. We're both Aquarius so his like a male version of me...he gets me and I hate that!! Love makes no sense to me and it's like and infatuation. We flirt and I can't help but feel dirty bcs he has a gf. But everytime I try to stay away from him I only get closer. Idiot want to ruin their relationship but it's hard to stay away from that Jackass
Xoxo
- 11-Jun-16 @ 5:47 AM
I m in a relationshipwith aquarianit's soo difficult to handle him sometimes... sometimes he wants to call off sometimes he doesn't .. even when he says he wants to calloff his actionsdon'tseem like infacthe'lllove me more will just b there for me ... what m I suppose to do .!? ShuldI give him more time to think abtthe relationship or Shuld calloff
lish
- 5-May-16 @ 4:45 PM
I'm an aquarian woman, I fell in love with a libra man who was already in a long distance relationship with another aquarian woman. He claimed to love me more. We had a good thing going until I felt insecure and messed it up. Our meeting was too coincidental. I applied to two businesses. Though I was qualified for one, I got the one I was not qualified for which was where he worked. We never crossed paths. I got bored and left the job. A year later, I got the job with the other business. He and I were on training together and developed a good friendship but not romantic. Then I met another guy, born same date and from the same area as he. However I only had feelings for the guy I worked with. We spent 4 years together having our ups and downs because of insecurity, now we don't speak at all. Should I let it be?
destiny
- 28-Feb-16 @ 10:51 AM
I heard a lot about aquarianmen and I even heard that 'I love you ' will take a long time to come out from his mouth. But I remember, my Aquarian men proposed me 3 years earlier but I rejected his proposal and changed my house just in case to avoid him but somehow we were in comtact again and could even talk for hours. We shared a good friendship, good time. And yesterday he proposed me again and I said that even I was in love with him since I saw him first. I know that he's not the worlds best looking guy but instead he's the one for me.
mini...
- 5-Jan-16 @ 6:41 AM
Am an aquarian woman nd i tink we are compatable wit aries,there is no bond lyk dis,dr is no perfect compatability dou, but wit understandin nd telorance,i tink anytin can work.....just believ dats al
Vick
- 22-Dec-15 @ 10:43 PM
I fell in love with an Aquarius guy who is my colleague and friend but I guess he doesn't know. I want the love to die because I dont think am the type of woman he want to spend the rest of his life with. though he asks me things about my life and I gave right answers. He acts as if he is not interested. pls I want to be emotionally detached. Please! Help. so that I wont get hurt at the end. Any good advice would be Ok.
Mimipearls
- 4-Dec-15 @ 10:15 AM
Aquarius man is a fixed sign and is steady focused & consistant being in a relationship is not much different to being best friends you can't posses them they do as they please but if you just follow them & be friends as their minds are their hearts they will find it hard to let go coz they don't like change they will eventually see you as a permenant fixture in their lives you don't have to try so hard with them just be yourself they have a cute dry sence of humour they like being childlike and playful so just be consistant with him keep it friendly and fun you will see all you need in his eyes and feel him like electrifying sunshine don't be deep or emotional they can't deal with it when they disappear it's because they need time on their own for thinking & probably thinking about you so ignore him or a better term leave him alone and he will be back if your needing more passion look for a water sign but then these guy are possessive so maybe not one person can meet all of ya needs an air sign for friendship a water sign for intense sex etc From a gemini aquarius girl
Butwhatdidthefoxsay
- 17-Oct-15 @ 12:52 PM
Aquarius best match is supposed to be Leo and vice versa.
Aquarius
- 6-Jun-14 @ 1:44 AM
I love my Aqarius man so much words can not describe and he tells me daily how much he loves me and shows it without me wondering. However he is a mystery to figure out, extremely head strong and it is said they are a fixed sign this guy is cemented ingraved he is so set in his ways. Never wants to talk about something that up sets or bothers him. And talk about sentimental I never knew men were this touched when something hurts them Why are they this way???????????????????????????
sweety
- 27-Jan-13 @ 3:44 AM
Am alway's thinking the woman of my life since i don't got one at the moment.Iask myself whether she will be willing to die with me.
bokandeh
- 24-Nov-12 @ 10:56 AM
my Venus is in virgo, the guy i likes in Aquarius. hes always asking, "I like you. Ive never stopped. So why does everything have to be so complicated?" biggest complication, to me, is the fact that he does demand independence and i feel like he thinks hes respecting me by giving me freedom when i want the opposite..i promised him id be less hands on if he'd be less hands off. hopefully, its what we need.
anonymous
- 28-Jan-12 @ 11:14 PM
Getting married to a Leo Woman is crime but, I am gonna do it no matter what it takes no way Im doing for real............though there is incompatibilities between two Zodiac-Sign,,but hey look it will stay last long forever & ever...........Thanks
Mark_Bibo
- 23-Jun-11 @ 3:51 PM
What will if got married to a Leo woman because I am in love with her, she is so attractive and independent well minded, ego, ambitiousness and she is so perfect. I wonder if there is any help or ideas which can leads me to a successful life in the future. Thanks Mark
Mark-Bibo
- 23-Jun-11 @ 1:27 PM