Capricorn in Love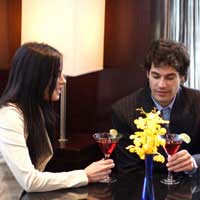 Capricorns (Dec 22nd-Jan 20th) are extremely cautious when falling in love. They like to be in charge – of both their lives and relationships. Capricorns would rather wait for someone who adores and cherishes them rather than make the wrong choice. They are not conventional romantics, but certainly have their charming ways, which can win your heart.
These ambitious people crave stability and admiration, so if you are hoping for a relationship, you may have to wait until their achieve their goals first.
Capricorn Women
You may not be able to tell it from her actions, but for a Capricorn woman, love is a very serious matter. She is the least likely of all signs to fall in love at first sight. If a man is not her type, she quickly discards him. When she does find one she is interested in, she will observe him closely before allowing him to get emotionally close to her. If you hope to woo her, be prepared for it to take some time. She is looking for a man who will admire and treasure her, yet not make her give up her own life and goals. She is shy and reserved, but filled with common sense and strong inner strength. Often, she is interested in younger men because she feels she can control that relationship.
Her hesitancy to commit and domineering ways often find her unlucky in love, which is a shame. When a man can understand and respect her, he will find she is filled with wonderful values. She is loyal, trustworthy, passionate, and supportive.
Capricorn Man
Capricorn men have a very self-assured manner about them. He can come off as cold and secretive because he is wary to commit to you emotionally, but he can be a faithful lover when given the chance. With the proper encouragement, he can be romantic and passionate.
He takes his choice of life partner very seriously. But he is ambitious and determined to fulfill his goals as well. Some Capricorn men marry later in life after they have achieved success. It is only then that they can be less concerned about their career and more relaxed and open to relationships. No matter how old he is, he will always remain interested in the physical side of love.
The Perfect Date
Capricorns desire environments that are intellectually stimulating. A concert, play, or serious movie will spark their interest. If you take them to a restaurant, make sure it is a quiet one. They love conversing, but make sure to listen closely. If you do not, they will think you are uninterested and pull away even further.
Compatible Signs
A Taurus admires Capricorn's strength and a Capricorn appreciates Taurus' affection and passion. Capricorn and Scorpio work well together. Their strong wills may cause tempers to flare, but they will easily make up. Pisces will admire Capricorns strength and both signs are very loyal. They are different in many ways, but work well as a love match.
Incompatible Signs
A Capricorn should avoid relationships with Gemini, Aries, Leo, and Sagittarius. Capricorns may seem a bit standoffish initially, but they are only analysing you to see if you are worthy of their love. Stable and faithful, if they do choose you to share their lives with, you will find them caring and loving.
You might also like...
Fell for an Aquarius guy we met through a common friend..never met.. Lived in same cities.. I am a plus size so was insecure.. Past relationships didn't help...three years of chatting and texting..long night phone calls ...i personally felt chemistry for the first time..but a few misunderstandings and i guess he was disinterested..i confessed my love..but he never did..said he really doesn't know..i am confused and sad. Help ?
Mimi
- 26-Oct-15 @ 5:16 AM
Im in love with a Capricorn! Ive had a huge crush on him for so long... This is really helpful to know what I might expect out of a relationship with a Capricorn
Kesh
- 23-May-15 @ 3:29 PM
Hey,shakeel! it's okay there's many people who would love to be with you, you know why? because your that type of person who would love unconditionally and that's real love! so if she doesn't love you then you should really contemplate about this girl:) best wishes for you dude I highly recommend a Pisces girl because she's a total heart-throb and the most understanding person you will ever meet.
Mo-Mo
- 22-Aug-14 @ 3:42 PM
my lover sign is scorpio she not love me i lover her too much my sign capricorn
shakeel
- 15-Feb-13 @ 4:53 AM
my lover sign is scorpio she not love me i lover her too much
shakeel
- 15-Feb-13 @ 4:51 AM