Hitler's Germany and Astrology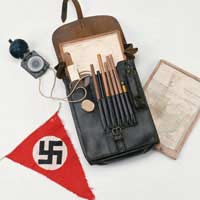 It was one of the most feared regimes in the 20th century – Nazi Germany. The Third Reich began in 1933 and ended only in 1945 after Germany was defeated in World War II.
Many individuals were persecuted in Nazi Germany. Routinely the German police would arrest astrologers for fortune telling. However, an interest in astrology grew, with many Germans recognising the importance of astrology not only as an art, but also for its importance to psychoanalysis. Numerous specialised books and pamphlets on astrology were published in Germany including Dr. Karl-Gunther Heimoth's work – an astrological study of homosexuality.
Many astrology conferences were held in Nazi Germany until 1934, when the Nazis officially banned fortune telling. This made the publication of any almanacs and astrological journals illegal. Dr. Heimoth had befriended Ernst Rohm, who was the chief of Hitler's private army, the Sturm-Abteilung. Even so, he was murdered in June 1934 for his belief and publication of astrology works.
Wulff
Some astrologers supported Hitler and his regime while others were more or less forced to cooperate. Wilhelm Theodor H. Wulff was a German astrologer who was required to work on the Ahnenerbe project. The project was founded by Heinrich Himmler, commander of the Schutzstaffel, also known as the SS. The project was to research the anthropological and cultural history of the Aryan race as well as search for mythical connections with Nordic ancestors and harness supernatural forces.
Wulff eventually became Himmler's personal astrologer. But Himmler was not the only Nazi fascinated with astrology and the occult. Rudolf Hess, Hitler's deputy, also believed in astrology. However, Hess became disillusioned with the war and fled to Scotland to try to make a peace deal with the Brits. Hess was quickly arrested. Hitler stated that Hess had gone insane, and quickly had the Gestapo arrest all known astrologers. The belief was that the astrologers had misguided Hess, eventually conspiring against him. Wulff was among those arrested and spent four months in a German concentration camp before being taken out to work on the Ahnenerbe project.
Did Hitler Believe?
It is not known for sure if Hitler himself believed in astrology. However, his name became linked with Karl Ernst Krafft, with many believing that Krafft was indeed Hitler's personal astrologer. Krafft was a Swiss astrologer who became friendly with many officials in the Nazi party. He wrote to Dr. Heinrich Fesel on November 2, 1939 with a prediction. Fesel was in charge of the Reichssicherheitshauptamt, a department that investigated enemies of the Third Reich including communists, freemasons, Jews, and astrologers. Krafft told Fesel that there would be an attempt on Hitler's life. Fesel ignored the letter, but on November 8th, a bomb exploded in a Munich beer hall. Hitler was unharmed, but Fesel contacted Hess, who had Krafft arrested. He was found innocent of any crime, but once he was released, Dr. Josef Goebbels, leader of the Reich Propaganda ministry, contacted him. Goebbels had recently become interested in Nostradamus and wanted Krafft to decipher the quatrains to have a pro-German outlook. There were thousands of pamphlets distributed with Krafft's interpretation of the quatrains, assuring Germans of a victory.
However, Krafft too was arrested after Hess' flight and he spent a year in prison. He wrote to a German official with a prediction that British bombs would destroy the Propaganda ministry in Berlin. When the ministry was destroyed, the official passed the letter on to the Gestapo, who decided to send Krafft to the Buchenwald concentration camp. Krafft, already in bad health, contracted typhus and died in 1945 on his way to the camp.
Wulff made it though the war and in 1968 published Zodiac and Swastika: Astrologer to Himmler's Court. It will probably never be known the full affect astrology had on Hitler's Germany or the decisions of Nazi leaders such as Hess and Himmler.
You might also like...
Some opposition astrologers who inquired after the time of day of Hitler's birthday were arrested.
Nonviolence Coalitio
- 16-Mar-13 @ 3:44 PM