Astrology and Sports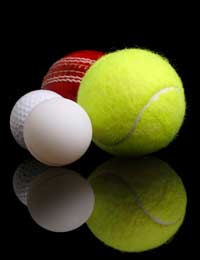 Many people may not realise it but the study of astrology has branched out to the area of sports. Astrology can be used to help predict sports as well as give advice to players on how to have a more successful game. There are many astrologers who predict professional sporting event outcomes as well as championships and titles. After all, if we can use statistics to try to guess the outcome of a game, why not astrology?
What exactly can an astrologer do for a sports team? They can provide incredible insight to player's abilities as well as management while shedding light on mental, emotional and physical aspects of the game. They also may be able to tell which amateur or new player is on the rise, helping teams maximise their investments.
Andrea Mallis
One such sports astrologist is Andrea Mallis. Andrea combines her three loves into one: writing, astrology and sports. Growing up, she was a huge fan of the 1973 "You Gotta Believe" New York Mets. After moving to California, she was a pioneer in blending astrology and sports. After attending an Oakland A's game in 2001, she called a post game show to talk about player Barry Zito's chart. She was an instant hit and now is the host of her own show, "Astrology Minute," which is in its fifth season.
Andrea does not use psychic ability to predict sports outcomes, but rather she analyses data from player birth charts. By looking at a player's birth chart and comparing it to the current alignment of the planets, Moon and Sun, Andrea is able to predict things for the players and teams. She has an 80% accuracy rate when supplied with the correct data. She has appeared on the ESPN shows SportsCenter, News, Cold Pizza and Baseball Tonight. She has also appeared on local television and radio shows including KNBR The Sports Leader, WFAN, and ESPN AllNight Radio. Her writings have appeared in Major League Baseball magazines as well as on various web sites (ESPN.com, MLB.com).
If you want to try to combine the love of astrology and sports, there are a few things you should consider. First, what type of astrology should you use? Some people like to use natal astrology (birth charts) to understand players better and see what their potential is. Others may use horary astrology, in which a single chart is drawn for the time and place a sports question is asked in order to determine the answer to the question.
Then, you will have to consider the player, the sport itself and where it is played. There is a big difference in trying to predict the outcome of an individual athlete versus a team. On a team, you must take into consideration everyone's charts for the overall prediction of the team's success. You will also need to take into consideration the skills and conditions required of different sports.
You can attempt to either chart sports astrology yourself or simply follow a preferred sports astrologer such as Andrea Mallis. Either way, you will find using astrology and sports together is not only fun, but also gives you new insight!
You might also like...
Do you provide sports prediction services especially soccer
cocomadimba
- 28-Jul-20 @ 4:05 AM