Psychics, ESP and Clairvoyance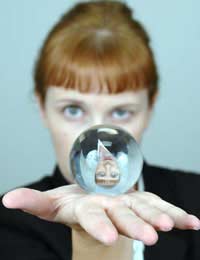 You have probably heard the terms psychic, ESP and clairvoyance used when speaking about someone who has an uncanny ability to predict future events. For centuries, people have been fascinated with those that they think can somehow predict the future, move things without touching them, or put them in contact with dead loved ones. The study of such paranormal abilities is known as parapsychology and the scientists who study psychic individuals and their claims are known as parapsychologists.
Psychic
A psychic is a person who uses some type of extra sensory perception (ESP) to know things others of us cannot. They seem to have a sense that helps them – something beyond the normal five senses. They may use different abilities to help them. Some psychics use psychometry. This is a form of ESP that occurs when a psychic holds an item in his or her hand. Just by coming in contact with an owner's object, they may be able to tell things about him or her. Some psychics use such objects when trying to obtain clues about someone who is missing or who has been killed, but their body has not been found. Some psychics use precognition. Precognition is another type of ESP in which the psychic knows something is going to happen. Many times, this is a sad event, such as a death, illness, or accident such as a plane crash. There is a theory that precognitive feelings can be changed before they happen due to free will. Some psychics, in addition to being able to foretell events, also are capable of psychokinesis (also known as telekinesis). This is the ability to move or bend objects with the power of your mind. Uri Geller is perhaps the best-known performer of psychokinesis powers.
ESP
Extra sensory perception is the ability to know information by a means other than the senses of taste, sight, touch, smell, and hearing. It is sometimes referred to as a sixth sense. In addition to psychometry, precognition, and psychokinesis, ESP can also include:
Telepathy
Telepathy is the psychic ability to obtain information from another by "reading" their thoughts.
OBE
Out of body experiences are often associated with ESP. OBEs can also include astral projection. Some people experience uncontrolled out of body experiences when faced with death, but others claim to be able to force themselves to have OBEs through deep dreaming or meditation.
There are various means to test ESP ability including the Zener Cards developed by parapsychologist J.B. Rhine. The cards contain five different symbols: a hollow circle, a Greek cross, three vertical wavy lines, a hollow square, and a hollow five pointed star. These cards are used to test telepathy (in which as sender sends the symbol they are thinking of to the receiver) or clairvoyance (where a subject tells the researcher what hidden symbol is on a card).
Clairvoyance
Clairvoyance is a type of ESP that many psychics use to gain knowledge. Clairvoyance, also known as remote viewing, may include a person being able to perceive distant objects, people, or events. Some who is clairvoyant may be able to see an object that is hidden to the naked eye. There are other psychic abilities similar to clairvoyance such as clairaudience (where one gains psychic information through auditory means) and clairsentence (where one gains psychic information through feel).
Many studies have been performed over the years to prove clairvoyance ability. Even the U.S. government funded research pertaining to remote viewing during the 70s, 80s, and 90s, at SRI/SAIC.
For thousands of years, many cultures have believed that ESP is possible and have often used those with such abilities to foretell the future or contact dead loved ones. Many people believe that we are all born with psychic abilities to some degree, but through societal pressure during childhood, we learn to suppress such abilities. However, with training and practice, you may be able to regain the psychic abilities with which you were born.
You might also like...
You you find out if I'm Special to investigated about though?
Onyx
- 17-Sep-19 @ 6:00 AM
I would like to inquire if I am fertile?! Can i conceive?!
Sherry
- 26-Mar-19 @ 10:14 AM
l count it a big previllage for me to get in contact with this study,called clairvoyance l want to study it'and l need more information and response from you thanks.
mfon
- 24-Mar-13 @ 8:57 AM
l count it a big previllage for me to get in contact with this study,called clairvoyance l want to study it'and l need more information and respond from you thanks.
mfon
- 24-Mar-13 @ 8:55 AM