Personality Traits of a Scorpio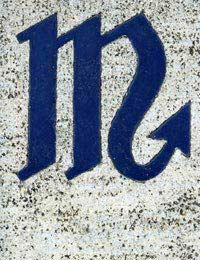 Scorpio (October 24th-November 22nd) is the eighth sign of the zodiac and represented by the scorpion. Scorpios are truly the contradicting sign. They can be the best and worst of both worlds – independent and clingy, loving and cold, authoritative and weak. Above all else, they are intense about almost everything.
Scorpios are often mysterious people because their true feelings run so deep and they keep their emotions hidden. They also like to uncover things under the surface of others and are very intuitive. Combined with a determination and loyalty, Scorpios often make great spiritual leaders, scientist, and doctors. They are very adaptable, often changing careers and going down new paths.
They can be strong willed and determined, almost to the point of being stubborn. This makes them great competitors, even if they are able to hide this desire to win from you. This also makes Scorpios very dominant, controlling and passionate. When they do not have a positive outlet for self-expression, they often turn inwards and become destructive.
When wronged, they do not easily forgive. It is almost as if the Scorpio sign invented the word "revenge". However, they just as easily never forget an act of kindness and are always ready to repay it. Scorpios are very loyal friends, but can be possessive. Scorpios are also conservative when it comes to money but when they do spend it; they know the right investments to make.
Brilliant Minds
Scorpios have a native understanding of humans and often show psychic tendencies. They are often interested in the mind and its potential powers. Scorpio is the sign of many of life's mysteries: birth, sex, death, and regeneration. They are willing to explore things others are afraid to look into, such as different religions and the occult.
Intense
Scorpios are often a force to be reckoned with. They are passionate, committed and in the same turn, if you are an enemy, they can be just as intensely ruthless. Scorpios are so intense, there are few challenges they are not willing to meet. They will use any information at hand to beat competitors and do not hesitate to move in for the kill.
Weaknesses
Because of their intensity, Scorpios can be jealous, possessive, and controlling. When mistreated, they will make it their objective to get revenge, even if it takes years. They like to keep their true emotions hidden from others, which causes people to perceive them as cold and uncaring.
Parts of the Body Ruled by Scorpio
The genitals – because the genitals rule them, Scorpios are susceptible to venereal disease and urinary infections. They may also suffer from fatigue and bad health due to their explosive emotions.
Famous Scorpios
Actors/Entertainers
Henry Winkler
Will Rogers
Roy Rogers
Richard Burton
Katharine Hepburn
Demi Moore
Rodney Dangerfield
Musicians/Singers
Paul Simon
Art Garfunkel
John P. Sousa
Bonnie Raitt
Mahalia Jackson
Scientists
Jonas Salk
Marie Curie
Carl Sagan
Artists/Writers
Pablo Picasso
Voltaire
Dylan Thomas
Sylvia Plath
Truman Capote
Claude Monet
Georgia O'Keeffe
Kurt Vonnegut
Politicians/Leaders
Prince Charles
Marie Antoinette
Bill Gates
Hillary Rodham Clinton
Michael Dukakis
Rev. Billy Graham
Indira Gandhi
Robert Kennedy
Gen. George Patton
Martin Luther
James Garfield
Scorpios can be your best friend or worst enemy. They are loving and passionate, even if they seem cold on the surface. They are often driven by their intensity and are determined to do whatever they set their mind to.
Love Life
Read our article
Scorpio In Love
to discover which star signs are a best love match for the Scorpio.
You might also like...
I m Virgo,My Friend is Scorpio, when start Business I have earn, my poor friend is Scorpio i help him, but He is not share any matter with me, when come customer his eyes rolling Scorpion, i ignore and when my absence unnecessary against spoken me other market peoples,day by day my business back , after 15 year I know but he is jealous me.and i back and scorpion Friend start Business.
smith
- 19-Aug-17 @ 2:00 PM
Damn! I've never been superstitious but after reading this article I have to admit I know this person, it's me. I have been accused of all of these thing including being a mind reader. It's funny that my ex wife sent me this article too, lol.
III
- 28-Jul-17 @ 11:43 PM
I don't believe in these generalizations so I never pay attention to the characteristics of Scorpios. However, I've never been so accurately described as I did when this site came as my (online) search
Scorpini
- 23-Jul-17 @ 10:46 PM
Born on October 30th 1980 and I think that it is amazing how much mind opening this is for me and how much it is all true..
Ivansio
- 16-Jul-17 @ 1:56 PM
So true about the anger deal I am a Scorpio November 17 and when I get yelled at I am like please back off but when they fight I'll be ready to come back lol being a Scorpio has its ups and downs for being a nice person I feel like people use me because I am so nice. Anyway. # LIVIN THE LIFE OF the SCORPIO!! ????????????????????????????
Austin B
- 10-Jul-17 @ 3:14 AM
I under stamd. All of.the. Scorpio people cause. Im.A Scorpio too.
Becky. Ann
- 25-Jun-17 @ 2:29 PM
Crazy how it all is right huge heart in me care for people but everyone tells me im.so intense and I don't mean it. And I always was the best at everything I did I just wanted to be better crazy.
Bret
- 24-Jun-17 @ 1:56 PM
I am a Scorpio born on October 31st, and I am the exact definition of one. Loyal yet possessive, and very contradictory. I feel things very intensely, and can often go from one side of a feeling to the exact opposite very quickly. My mother and daughter are both Scorpios also. Lord help us all! I love them both to death, but sometimes they drive me nuts. Probably because they exhibit the same personality quirks I do ;)
Farrahann34
- 18-Jun-17 @ 11:07 PM
I take full responsibility for all of my Scorpio-ness!! I am not a jealous person in the sense of jealous of people and what they have. I am extremely jealous of who I love. If me and my boyfriend go through something and we are not speaking, I am out of my mind with jealousy for who is talking to him. It doesn't matter who it is, i am jealous of his mother or his boss, because they spoke to him today, and I didn't! Yes, i am that kind of jealous! Crazy AF, and don't mind it. So you don't have to take everything literally ( I have never had a STD either ) but I am ruled by my sex, and I don't mind that either.
Tabulous
- 3-May-17 @ 7:23 PM
i am a scorpio and in terms of feelings, i show the positive side of me and no one will know that i am broken deep inside. i am also authorative and people often describe me as a control freak. i am also ruthless and a masochist.. so almost all of it sums me up as an individual.
Gel
- 28-Apr-17 @ 6:20 AM
True all the way. Especially Intense. For me, intense part for most Scorpio are eyes and intuition. I think scorpio is not a fully secretive. We just tend to hide something. And tell things we think they can manage
Anony
- 20-Apr-17 @ 4:33 AM
I am a Scorpio/Sagitarius Cusp. Born on the 22 day of November. I can tell when i am Scorpio, and when i am Sagitarius. So can my partner. Lucky me when i am the Scorpion, unlucky for those that misstep. When i am the Archer, i am a little more empathitic. Lucky for those who mistep with the Archer.
Mimi
- 1-Apr-17 @ 6:20 AM
undeniably true... im so much possessive with regards to my husband and very protective with my daughters. i can be nice and loyal but once i feel betrayed and mistreated, better run and hide because i can be their worst nightmare.
mrs.JQ
- 10-Mar-17 @ 11:15 PM
I'm a scorpio and I enjoy being a scorpio. It's true that people think I'm cold and distant. I guess being a scorpio, it's kinda in my nature of hide my feelings, it's never been unfamiliar territory tof me in my entire life. And it' unfair too. Nobody asks. Nobody makes sure. Theyou always believe whatever font I put on. It'seems sad. And in the end us scorpios are the cold ones who don't care.
Angel
- 2-Mar-17 @ 3:00 PM
I'm a scorpio to and I never knew that we are mysterious people it pretty much nailed it for me to except for the disease thing other than that it's me all the way
crissy
- 2-Mar-17 @ 5:00 AM
Can anyone help I am a pisces and head over heals in love with Mr Scorpio(although i never told him how i felt)We used to chat all the time on social media and were good friends.He was having problems and one day he just blew me out and i dont know why Now he just ignores me.I am hurting and reallymiss him Help anyone ?
Kate
- 23-Feb-17 @ 5:30 PM
this is me down to the ground - oh except the disease bit - but I get the sexual intensity bit!! i love this sign except being highly strung and looking into everything!! but the passion!! second to none :-) :-) smashed it
lisa :-)
- 23-Feb-17 @ 1:49 PM
I am a Scorpio, and it nails it all the way around.
Nell
- 12-Feb-17 @ 12:30 AM
A lot of this is true. I do hide a lot from people and people think I'm cold hearted and rude.
Butterfly
- 12-Jan-17 @ 9:09 PM
Well..... Half of what is written here is true,... I hide my feelings a lot.... Although am not possessive????
Annie?
- 14-Dec-16 @ 2:38 PM
I'm Very much the scorpion there's, Very loving, emotional,very helpful be a perfectionist,passionate,caring, I get cursed out for being strong willed about what I'm into I hold strongly to my point but I'm not trying to be difficult, I make friends fairly easy, & all that... I'll just say I'm all Scorpio.
Gary
- 26-Nov-16 @ 8:00 PM
All I can say is that I'm glad I'm a Scorpio- good with the not so good- even bad.Intense? Stubborn? Revengeful?Perhaps.We're human!
None
- 6-Oct-16 @ 4:01 AM
I relate to the common traits a Scorpio exhibits but to a varying degree altogether that I haven't seen or heard anyone talk about . I am very intense in everything I do and most always will come out on top, I don't know why but we Scorpios are magical in some sort of weird way, I just know and feel things that give me the power and ability to do this. As far as revenge goes , don't even try to get one over on me, even if you somehow do , the ensuing onslaught will be your demise for I will do everything in my power, which is great , to make my objective a reality . I will not stop, ever, until I am completely satisfied with a given result. There is so much more I want to say but I can't, I do t know why, I am an addict and I am self destructing , functional addict that far surpasses 3/4 of the sober work force in ability and I am barely using my gifts . Please help me fellow scorpios
Scorpio
- 27-Sep-16 @ 4:33 AM
I have to say a lot of the things i read about SCORPIOS "is on point". I was born on 11/11/77. Submissive...not me. Dominante...totally. Secretive... Hummm... yup there's some skeleton's in there. I love life tho',humble these days. The one thing i liked most,got me cracken up. There's not really much that you can tell a scorpio that they dont already know. Thats funny,cause im not one to ask questions. "BUT"if & when i do,please be honest & tell the truth. (WHY) cause i already did my home work.Lol
Sweetz
- 29-Jun-16 @ 11:29 PM
im tryimg to figure out my role in porpuse in life wich is why i started reading about my zodiac sighn scorpio. but i am getting nowhere everthimg i am reading about scorpios is exactly me. i want to be president of the US but i find it extreamly hard for me to pursu that dream. now i dont even know if thats what i really want to do any more. all i want to do is be some one inportant that makes a diffrence and helps the people who need it the most. im afraid that i will never find my true calling in life.what is the point of the life exactly. if i cant even figure out my own fealings, how am i supposted to make a diffrence. i am just so confused in life.
confused in life
- 8-Jun-16 @ 2:44 AM
I've read so many things about Scorpios, jealousy bugs me. I'm not jealous, when younger maybe at times envious as I grow older I'm not even envious. I have 4 brothers 1 sister, I'm the youngest the one everyone comes to for help, rely on, they can always count on me I'm always there, will always help, help too much, @ times it's too much. when I'm in a long depression going over a month & they need me I try to help, I fall apart because I can't help, that's when I understand I need to be careful take a break. They will keep things from me that have happened when I'm depressed, but I'll sense it and they always think someone must have told me. I'll know I'm the phones going to ring before it does. Someone will call tell my husband about something bad so he can tell me. I'll know what it's about how bad before he tells me, but I'll seldom know who the caller is until he tells me.
Misty
- 28-May-16 @ 11:42 PM
To all us Scorpios out there, try to remember that how you feel is all just temporary, and from my life experience we Scorpios are truly magic people if only we knew how much we materialize out into the world that is our heaven & hell.Nothing in our world is that tragic.We have the powers to make anything in life profoundly beautiful & amazing.Methamorphis is key.Transformation is essential in Scorpio's evolution for acquiring inner peace.Lol.Hurry up and get over yourselves!No one needs to be that attached to our egos, especially us Scorpios who feel so deeply, the depths of darkness don't have to be a permanent thing, and once you get a hold of your wildier energies you'll see how easy life really is.Yes, that's how powerful I am and how powerful all of us are truly.Lol.Haha. Silly Scorpios!
n)'(nas
- 29-Apr-16 @ 8:44 PM
I'm a Scorpian Fire Dragon woman, and I am most of all the things I've read about Scorpio and the year of The Dragon.From early childhood to a mature adulthood I've never exhibit or had the personality trait of "jealously."I can't figure this out.Jealously seem to be a prime bad personality trait in Scorpios and those born the year of the Dragon.
n)'(nas
- 29-Apr-16 @ 7:07 PM
I'm a libra but know and work with several Scorpiosand they all seem to be moody. This is why I came to see if moodiness and unstableness could be a trait for Scorpios.
Nena
- 5-Feb-16 @ 7:06 PM
All of this is very accurate. I always make people pay for hurting or upsetting me, I can get depressed but I push my feelings aside and don't let it get in the way of my current objective, I have never told anyone my feelings and people find it difficult about how I feel about them and so on... here's a life tip: never mess with us Scorpios, cause you'll regret it so much...
A Random Scorpio
- 29-Dec-15 @ 7:21 PM