How The Elements Affect Astrology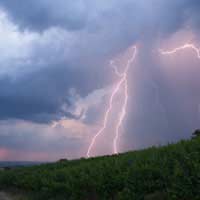 Astrology has been studied for almost 5,000 years and during that time, the signs of the zodiac have acquired special characteristics and meanings. Over the years, astrologers have devised ways to separate and combine the signs to look at them differently. One such way is the duality of the signs.
About 2,000 years ago, astrologers divided the 12 signs into masculine and feminine groups. The masculine signs (Aries, Gemini, Leo, Libra, Sagittarius, and Aquarius) are seen as outer-directed and strong through actions. The feminine signs (Taurus, Cancer, Virgo, Scorpio, Capricorn, and Pisces) are seen as self-contained, having inner reserves.
The signs of the zodiac are also divided into the triplicities, four groups of three. Each group is known as a triplicity and is represented by an element such as fire, air, earth, and water.
Fire Signs
The three fire signs as Aries, Leo, and Sagittarius. Fire signs are active and enjoy being leaders. They are strong, assertive and very wilful. Because they like to be in charge and are so headstrong, they tend to be impatient with others.
Fire signs are not very patient and children born under fire signs should be taught patience at as early an age as possible. This includes respecting the rights of those around them by controlling their assertive behaviour. People born under fire signs should find some constructive way to exert their energy, be it dancing, playing sports, or some other physical activity.
Earth Signs
The three earth signs are Taurus, Virgo, and Capricorn. Earth signs are the most stable and reliable signs of the zodiac. They can be very methodical in their ways and are usually well organized because they think everything out in advance. They are practical and love books and learning. However, they can be critical and serious.
Because earth signs tend to be very serious, youngsters who are born under earth signs should be taught to shake things off rather than take everything to heart. Earth signs should be encouraged to interact with others, although they are, even as children, perfectly content to be by themselves.
Air Signs
The three air signs are Gemini, Libra, and Aquarius. Air signs are the talkers of the zodiac. They are enquiring, intellectual, charming, and emotional. While broadminded, they sometimes have trouble making a decision. They also often rely on their charm to get them out of sticky situations.
Air signs have problems at time relating to others. They can also be very wishy washy – not knowing what they want to do and changing their minds often. Parents should spend time teaching air sign children that making decisions and sticking to something is an important part of growing up. Air signs must realize that they cannot always use their natural charm to get out of trouble.
Water Signs
The three water signs are Cancer, Scorpio, and Pisces. The water signs focus on feelings and emotions. They are very nurturing and caring as well as highly sensitive themselves. These signs are also very intuitive, almost having an extrasensory trait. Because water signs are so sensitive, they are easily hurt and sometimes become reclusive in order to avoid being hurt. They also seek affection so much; they may be viewed as clingy at times.
Children born under water signs should learn to be independent to avoid being clingy and hurt. They too should be taught to take things with a grain of salt and not so seriously, to try to avoid hurt feelings. Adults need to work against their innate defence of retreating when something hurts them.
The signs interact with each other in different ways, based on their characteristics. In general, fire and air relate to each other well, as do earth and water. But, knowing the particular nuances of each sign should help you when dealing with a sign with which you are not very compatible.
You might also like...