What is Hellenistic Astrology?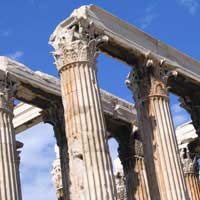 Hellenistic astrology is the horoscopic astrology that was practiced in Hellenistic Egypt and the Mediterranean beginning sometime in the 3rd century BC. This type of astrology began between the time of the Alexandrian conquest and the beginning of Christianity, although its exact time of creation is hard to pinpoint. Hellenistic astrology itself only lasted until the seventh century, but it was the source of many types of astrology that still exists today. It had a great influence on Indian astrology, Arabian astrology, and even European astrology.
The Origins
When Alexander the Great conquered the Persian Empire, bringing Egypt, Palestine, Persia, Mesopotamia, and parts of India under his rule, it was the first time in history so many cultures were under one official language (Greek). During this time, known as the Hellenistic Period, Alexandria became a hub of all the different cultures. Some believe it was from this mixture that horoscope interpretation evolved from such Babylonian astrologers as Berossus. Other Hellenistic astrologers believed a mythical sage named Hermes Trismegistus created their system and it was he who wrote the horoscopic astrology system. From Hermes, the system was eventually handed down to Nechepso, an Egyptian pharaoh and Petosiris, his priest
. There are three major subdivisions found in Hellenistic astrology: universal astrology, natal astrology (sometimes known as genethliacal astrology), and katarchic astrology. Natal astrology uses an individual's birth date to create a chart that can determine their personality or the life path they will take. Universal astrology deals with predicting things that will affect the masses such as weather and natural disasters such as earthquakes and plagues as well as man-made events like war. Katarchic astrology includes electional astrology, which helps individuals know the best time to take an action (such as a wedding) according to their chart. Katarchic astrology also uses event astrology, which helps you understand all aspects concerning a particular event.
Many concepts founded during the Hellenistic Period are still used today in astrology. The concept of houses, found in Hellenistic astrology, is still used in western astrology. If the exact time of birth is known, an astrologer can create an individual's astrological chart, thus gaining a deeper knowledge of that individual and their way of thinking and acting. It is the houses that set Hellenistic astrology apart from other types of astrology being practiced during the same period. The Lot of Fortune is also attributed to Hellenistic astrology. There are more than a dozen Lots, but the Lot of Fortune is one of the most important. The Lot of Fortune is calculated as Ascendant + Moon - Sun (the degrees of distance between the Sun and Moon are calculated and the same distance is measured from the point of the Ascendant).
The surviving text from the Hellenistic Period is mostly written in Greek, as it was the common language of the day, although there are a few written in Latin. Much of it is on natal astrology, but there is some material on universal astrology that survived. Hellenistic astrology was practiced until the 7th century CE.
Today
Project Hindsight is trying to ensure that the history of Hellenistic astrology is preserved. Because Hellenistic astrology had such a great influence on so many other types of astrology, Project Hindsight thinks it is extremely important to preserve the teachingsm theories, and techniques used in Hellenistic astrology.
Believing the lineage recorded by fourth century astrologer Firmicus Maternus is correct in crediting Hermes Trismegistus for founding Hellenistic astrolology, Project Hindsight refers to the system as "The System of Hermes." They have tried to restore this in its original form so astrology students today can understand the significance of the system that helped give birth to other types of astrology. Project Hindsight also believes the study of Hellenistic astrology can clear up problems found in astrology that were created by incorrect translation over time, especially during the medieval era.
Hellenistic astrology became very big during the 3rd century. Its teachings were used as a guideline for both western astrology and Indian astrology and many of its concepts still exist today. A rediscovery of Hellenistic astrology is helping new generations learn its importance.
You might also like...