Palmistry: Palm Readers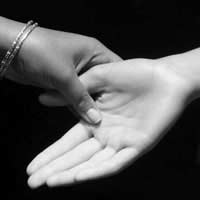 Palmistry is an art in which a practitioner reads an individual's fortune or tells something about their character by viewing their palms. The practitioner uses the lines marks, and patterns to determine the person's fate or give them insight into their personality. Palmistry is also known by other names, such as chiromancy, chiromancy, palm reading, chirology, and hand analysis. The practitioners are often referred to as palm readers, chiromancers, palmists, or chirologists.
History of Palmistry
The history of palmistry dates back thousands of years. Archaeologists have discovered stone, wood, and ivory hands carved that date back to ancient civilizations, so we know man has always been fascinated with the hand. But did ancient man look at the lines and marks on his hand and wonder what they meant? It is believed that palmistry as we know it began in India and arrived in Europe around the 12th Century. Gypsies then brought their own version of palmistry from India to Europe in the 14th Century.
Modern palmistry is linked to two men – Casimir D'Arpentigny and Adrien Desbarrolles. Both became interested in the practice when they had their palms read by gypsies and each contributed significant works to help further the art of palmistry. Others have aided in the growth of palmistry over the years, too. Katherine St. Hill founded the Chirological Society in 1889 to help support the practice of palmistry. In the early 20th century, Irish astrologer William John Warner, known as Cheiro, used palmistry, astrology, and numerology to make predictions. He had many famous clients including Mark Twain, Oscar Wilde, Thomas Edison, and the Prince of Wales, and helped to bring much attention to palmistry before his death in 1936.
Recently, followers of traditional medicine have started looking to the palms for explanations to certain disorders like Down's Syndrome. There have been psychological studies to determine if certain hand features are similar in patients suffering from ADHD and schizophrenia, too.
The Practice
The palm reader looks at the lines and marks on your palm to determine your reading. Hands, of course, vary from person to person, but most include these three important lines:
The Heart Line – details your love life as well as emotions and events that predict your ability to love and be loved.
The Life Line – represents a person's liveliness, drive, physical health, and wellbeing; however, it is not an indicator of how long someone will live.
The Head Line – defines how you approach life, including philosophies, beliefs, learning styles, and desire for knowledge.
There are other major lines such as:
Simian Crease – this is when the heart and head lines fuse, and some palm readers think this means the person cannot distinguish between what is desired and what is thought.
The Fate Line – this line is believed to show an overall view of the person's life path.
There are also minor lines used in readings including Travel Lines (which signify trips taken. The longer the line, the more important the trip), the Mercury Line (an indictor of business shrewdness and communication skills), and Union Lines (indicators of close relationships, romantic and otherwise).
Usually, the palm reader begins with the person's dominant hand, which is the one that she or he uses to write. Some theories of palmistry believe that the other hand carries information about our past lives. In some cases, the palm reader may also study your fingers, fingernails, and skin texture to aid them in their reading. Classical palmistry relates each area of the palm to a Greek god or goddess, i.e. the ring finger is associated with Apollo.
Palmistry has come a long way through the years and still remains a very desirable art for many followers and practitioners. Like Astrology, Numerology, and other such arts, it can be used to help individual's better understand themselves, their lives, and how to better certain situations they may be facing.
You might also like...
Assalamualaikum meri shadi ny hori my bht pareshan hn aur my bht bimaar rehtyu depression me chale jate rehtyu mere bare my bolo na
Bibi
- 16-May-19 @ 4:41 PM
was birn in august. want to understand my emotions
nkweks
- 2-Jul-12 @ 11:21 AM